Our Prop Packages include the Coro and Pixels you need to easily add smart pixel props into to your display using whatever size Pixie controller best fits your needs. The props in these packages can be connected to a Pixie on an existing network of Gen3 Light-O-Rama Controllers, or used on a separate network within the same show. A Cat5 cable is required to connect the Pixie controller you use to existing controllers in a multi-controller network, or a computer/showtime director if it is the only Unit in the show.

S5.6.8 or higher is recommended for easiest use. (5.6.0 and above is required to use RGB Sequences, coming October 2022). A Pro license level is required to use Pixel Motion Effects. 
Downloadable prop files within the LOR S5 Sequencer for each CPC Kit will be available by late August.
Learn more about preparing to use these props with our RGBPlus Sequences by clicking here. More information about full system set up and altering Pixie Unit IDs to work with custom set ups will be available by late September. RGBPlus sequences will be available for purchase in early October.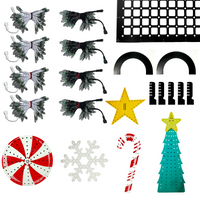 Prop Packages: Coro+Pixels